OIC 2019: Improving the day-by-day Asset Management and Grid Operation
Winning solutions
The Danish start-up Okto Acoustics from Copenhagen has won the third edition of the Open Innovation Challenge and received €20,000 to carry out a proof of concept in collaboration with the Elia Group. They presented their innovative idea during the closing event that took place in Berlin, on June 20, 2019.

50Hertz and Elia aim to use this international start-up competition to develop solutions for improving the day-to-day activities of work force in the scope of asset management and maintenance.

Okto Accoustics was chosen from among the five finalists. The company has developed a software that uses artificial intelligence to identify and evaluate a wide variety of sounds. Used in or on an electrical installation, the solution could, for example, distinguish normal operating sounds from anomalies or detect unauthorised access. An important indication that will help Elia Group to ensure the safety and reliability of its assets.
Meet the winner!
Our partners for this challenge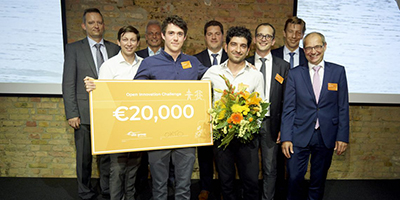 Who can participate
Start-ups
Registration deadline
20th April 2019
Status of challenge
The challenge is closed.