OIC 2020: Securing the energy transition
Open Innovation Challenge 2020
Via the fourth edition of the Open Innovation Challenge, Elia Group was looking for innovative and digital solutions to enhance the security of energy related assets and data. Out of the 82 start-ups, who have registered in January 2020, 5 start-ups have been selected and pitched their ideas and solutions in the final event that took place on Thursday 10th September.
Winning solution
The Portuguese start-up Heptasense from Lisbon has won this Open Innovation Challenge and received €20,000 to carry out a proof-of-concept in collaboration with the Elia Group. The company has developed a software package that processes and analyses images from multiple cameras and then sends out real-time warnings, thereby enhancing security.
Re-live the final event
The final event has been organized in a hybrid way as the event could be followed onsite (in Brussels, with restricted number of attendees) as well as online. Rediscover here for each finalist a short introduction video and their 7′ final event pitch:
Winning solution
Heptasense | Software package for video analysis, to issue alerts in real time and so enhance security.
4 other finalists
The challenge: securing the energy transition
The transformation of the energy landscape, due to ongoing trends such as digitalization, decentralization and electrification, faces the Elia Group with higher complexity and challenges to forecast, operate and control the grid. As a result, the focus is gradually being shifted from controlling a few large installations to managing a sum of decentral and small units.
On the other hand, the rise of digitalization, technologies and the availability of data enable TSOs to properly manage this increase of complexity. Digitalization is therefore an opportunity but also a threat: more data collection and open, interconnected systems go along with an increasing need of security. Ensuring a reliable electrical system is no longer just a matter of protecting physical assets, but in providing overall solutions that secure both bits and electrons.
Therefore, we organized this Open Innovation Challenge to discover start-up companies, with great ideas and digital technologies, to build a proof of concept with us, designed to improve the security of our assets and data, but also to increase the protection and respect of privacy of our personnel, customers and other stakeholders.
Our partners for this challenge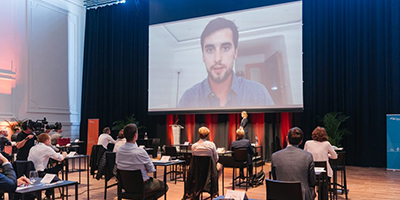 Information details
Who can participate
Start-ups
Status of challenge
The challenge is closed.