3D model of Princess Elisabeth Island
We are proud to unveil our 3D model of the groundbreaking offshore infrastructure project, Princess Elisabeth Island - the world's first artificial energy island that combines both direct current (HVDC) and alternating current (HVAC).
Context
Princess Elisabeth Island will be built off the coast of Belgium. The island's high-voltage infrastructure will bundle the wind farm export cables of the Princess Elisabeth zone together, whilst also serving as a hub for future interconnectors with Great Britain (Nautilus) and Denmark (Triton Link). The 3D model of the Island was first publicly presented in May 2023 at the North Sea Summit in Ostend and later at the WindEurope conference in Copenhagen.
The Innovation Division was tasked to create a large-scale model, measuring over 3 meters in length. The challenge was amplified by strict deadlines, requiring the use of rapid prototyping approach and technics to deliver a high-quality 3D model within a short timeframe.

Rapid Prototyping: The Key to Success

It would have been impossible to create a model of such size and complexity within a short timeline without an experienced partner and advanced technology. To this end, we have partnered with Materialise, a Belgian leader in additive manufacturing, to bring the necessary technical skills. To create a representation of the offshore infrastructure island, the project team used 3D printing and CNC (Computer Numerical Control) machines.

It enabled us to quickly design, test, and iterate on various components of the model, ultimately resulting in a high-quality 3D model of Princess Elisabeth Island.

Conclusion
As Elia Group works to develop cleaner, more sustainable energy solutions for our world, the Princess Elisabeth Island project will act as a catalyst for the continued expansion of the offshore wind energy sector in Europe. The presented 3D model can serve as an inspiration and a blueprint for future offshore island projects around the world.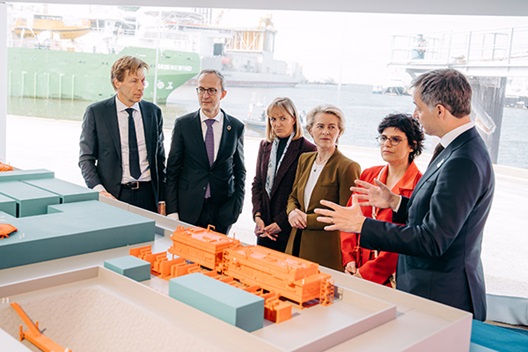 Learn more about Princess Elisabeth Island