12 January 2023
Osmose: improving flexibility integration
As renewable energy uptake is accelerating, access to flexibility is becoming a key requirement to make the energy transition possible.
Why this project
Huge potential is appearing as various sources of flexibility emerge to replace the declining availability or closure of thermal plants. However, the big challenge for the pan-European grid lies in creating a competitive market and regulatory framework that is open to all kinds of players and enables affordable, reliable and sustainable development of these new flexibility assets.

Osmose is a project supported by the European Commission that will run for four years, aiming to achieve a reduction of barriers in order to better capture the potential of these upcoming sources of flexibility. The project searches synergies across needs (energy markets, system services, grid flow control…) and sources of flexibility (renewable generation, demand response, grid, storage…) by identifying multiple parallel applications in order to maximize the cost efficiency of the system.
Approach
The Osmose project is divided into 9 work packages tackling different dimensions of better flexibility integration, notably:
The forecasting of optimal mix of flexibility solutions
The improvement of market mechanisms and regulatory frameworks
The assessment and Increase of real-life techno-economic efficiency of the flexibility solution of different type (storage, large demand response and renewables, near real-time cross-border market…)
The scaling-up and replication of the flexibility solutions and associated services tested in the demonstrations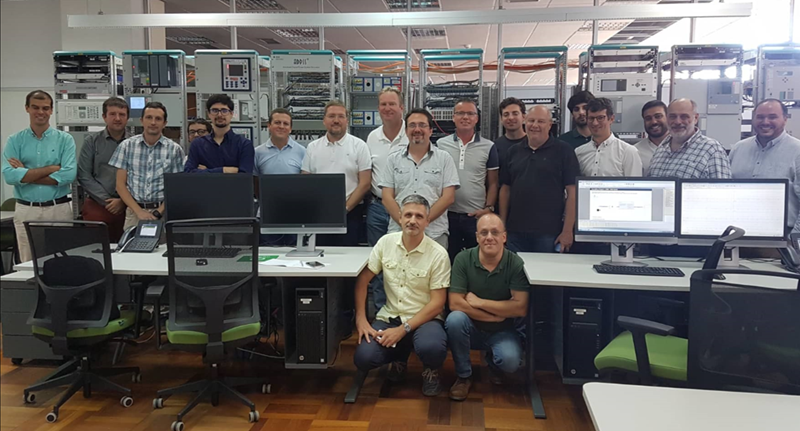 Elia's role
Elia is leading task 1 from work package 7 with the goal to improve the interoperability framework (IEC 61850) for plug & play integration and better exploitation of flexibility solutions, in consistency with the ENTSO-E's dedicated workgroup, and by integrating real-life feedback from the demonstrations.

In that context, Elia is responsible for coordinating task 7.1 that will finally demonstrate the top-down engineering process of digital substations using IEC61850 based multi-vendor products. The demonstrator is hosted by R&D Nester, the lab branch of REN, TSO in Portugal, part of the Osmose consortium.
Results
Project outcomes are already integrated in a future edition of the IEC 61850 standard through its active role in the IEC TC57 WG10. Osmose results will benefit to the 4th generation of our protection cubicles frame agreement (Standardized Protection & Control Schemes – SPACS4) foreseen around 2025.

The results demonstrated the IEC61850 interoperability and contributed to lowering the cost of integration as well as to promoting a competitive environment.
Partners